Atlantic season opens early, with Subtropical Storm Alex bearing down on the Azores Islands
Hurricane season has opened early in 2016, with Tropical Storm
Alex
forming in the east-central Atlantic Ocean yesterday. The storm, which currently has sustained winds of up to 60 MPH, is projected on a curved northern track, threatening the Azores Island Chain and its estimated population of 250,000;
Alex
is expected to arrive there by late Thursday.
This event is a rare one, due to its early formation; only four times since 1851 has tropical storm season started in January, with its normal beginning on June 1st. Since sea-surface temperatures are cooler this time of year forecasters have not issued warnings to the threatened islands, although they are advising residents to track the storm closely due to rainfall amounts of up to seven inches being possible.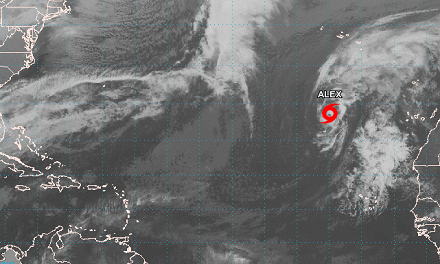 Despite its size and northern location The Azores chain has dealt with its share of tropical storms in the past, although none of those arrived in January. Eleven total tropical and subtropical storms have hit the largely agricultural islands in known history, with the most recent being Tropical Storm
Grace
in 2009.
Researchers are uncertain as to why the season has opened so early, although many postulate it may be due to a weakening
El Nino
impacting it as a whole. With that noted, speculation suggests that it fits an overall trend of changing seasonal patterns, be they the result of natural phenomenon or human activity.
Help spread the word for The Apocalyst! Share this story by clicking on the option for your favorite social network directly below.